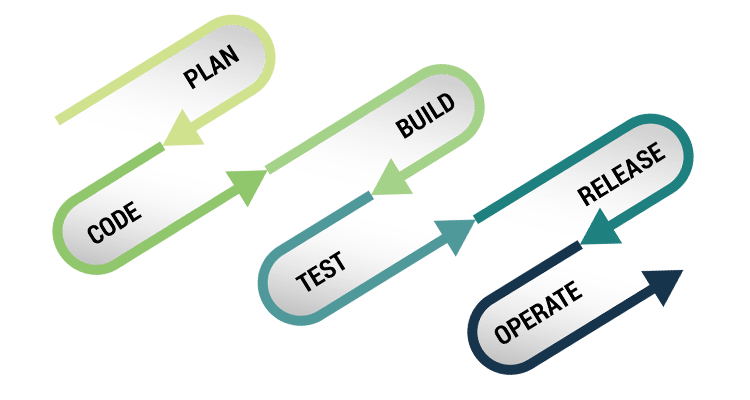 iSolvers' DevOps
Our DevOps framework offers continuous software delivery that results in greater deployment frequency, simplified infrastructure management, faster time-to-market, and a significant increase in code quality, performance, and security.
An Overview
iSolvers' DevOps practices allow software development and IT teams to work in parallel with each other. The teams simultaneously build, test and release software sooner while maintaining timelines. The firm handshake between these teams leads to better collaboration, a shift in mindset and tighter integration. Benefits include managing unplanned work in a better manner, faster innovation, ability to solve critical issues quickly, and delivering higher value to businesses and customers.
Our DevOps pipeline is built on Docker Containers using next-generation technologies, especially on the cloud-native side. Everything we've done can be run on the cloud or on-premises in a highly virtualized manner. The pipeline that iSolvers has developed will help end users accelerate their SDLC, thereby providing them agility in terms of how they deliver projects into production in a much faster manner. We can provide cloud-native services that go beyond AWS, Azure or Google Cloud. Having already implemented the above practices, we will be able to cater to any requirement that the client has, regardless of the modules. We set up all the tools that are required to implement the DevOps process at the client location. Once done, we stay on until we ensure that the stakeholders at the client location are completely trained.
DevOps Toolset
We leverage modern technologies that include a combination of effective tools and processes to allow teams to innovate rapidly and at the same time, reliably for clients. The DevOps toolset includes a combination of JIRA to capture agile process-based Epics and Stories; GIT for Versioning; Jenkins / CloudBees Automation Server / Pipeline Management; Artifactory / Nexus for Artifact Management; Terraforms / Chef / Ansible to develop scriptable architectures & manage Infrastructure as code; and, Kubernetes clusters for microservices deployments
Our DevOps Practices
Our CI/CD pipeline is built in a cloud-native fashion. Our practices involve morning to evening scrum calls, two- to four-week sprints (this depends on the scope of the project in hand). The first three or four sprints generally streamline the development cycle, resulting in a steady output and performance.
● Continuous Integration (CI): Developers integrate the code into a shared repository multiple times each day. Teams will be able to spot challenges early on with the help of an automated build that verifies each check-in. Frequent integration also enables the teams to locate errors quite easily; deliver software more swiftly; and, cater lesser time to debugging & more time to adding new features. There is also a considerably less back-tracking and this results in lower cost of execution. Without CI, detecting problems and fixing them at the right time is less likely due to longer periods between integrations. This can lead to a project failing altogether.
● Continuous Testing: This process enables the testing to be merged with the development process and not pushed towards the end of the process. This is predominantly for the team to evaluate immediately if the release candidate is eligible to go through the delivery pipeline. Benefits include evaluating business risks, executing tests that are ideal at every stage of the continuous delivery pipeline, giving actionable feedback and run end-to-end tests that evaluate the end-user experience across all technologies, both front-end, and back-end.
● Continuous Delivery: Continuous Delivery allows large organizations to operate in a lean, agile manner and be as pioneering as start-ups. The Testing, Support, Development, and Operations teams come together as a single delivery unit in order to automate & restructure the build-test-release process to have a low risk. Code changes are automatically built, tested, and prepared for a release to production. Developers will always have a deployment-ready build artifact that has passed through a standardized test process if continuous delivery is implemented effectively.
● Continuous Deployment (CD): Continuous Deployment is generally considered to be a part of the Continuous Integration workflow itself. As part of the software release strategy, any code commit that goes through during the automated testing phase is subsequently moved into live production. Therefore, there is no time lag between code change -> platform testing -> live production, in Continuous Deployment. This cycle continues for all phases of the release.
● Containerize Applications: Authoring immutable infrastructure can take some time, and time is money. Teams will appreciate that application containerization is automated in Jenkins for applications that generate images. The Dockerfile is auto-generated.
● Infrastructure as Code: Infrastructure as Code (IaC) is often referred to as 'the engine at the heart of DevOps'. Networks, virtual machines, load balancers, and connection topology are managed with code and software development techniques such as version control and continuous integration. IaC is essential for regular DevOps practices and is used in conjunction with Continuous Delivery. IAC allows DevOps teams to test applications in production-like environments early in the development cycle. The developers as well as system administrators interact with infrastructure methodically, and at scale, rather than manually setting up and configuring resources with the help of the cloud's API model. The engineers can interface with infrastructure with the help of code-based tools and treat infrastructure and application code similarly. Infrastructure and servers can now be deployed swiftly with the help of standardized patterns, updated with the latest patches and versions, or duplicated in repeatable ways.
● Configuration Management: This process is primarily to determine and track individual configuration items, documenting functional capabilities, and interdependencies. Our developers and system administrators use code to automate operating system and host configuration, operational tasks. Using the code that is repeatable and standardized enables developers and systems administrators from manually configuring operating systems, system applications, or server software.
● Policy as Code: Organizations will be able to monitor and enforce compliance at scale with the same approach that has been used for IAC. Simply put, Policy as Code is the process where policies are tracked, validated, and reconfigured by automation, with the help of code. Organizations can easily preside over any changes in compliance and make sure that security measures are enforced in a distributed manner (e.g. information security or compliance with PCI-DSS or HIPAA). Likewise, non-compliance can also be detected automatically for further investigation or even automatically brought back into compliance.
Monitoring and Logging
Organizations monitor metrics and logs to see how application and infrastructure performance impacts the experience of their product's end user. By capturing, categorizing, and then analyzing data and logs generated by applications and infrastructure, organizations understand how changes or updates impact users, shedding insights into the root causes of problems or unexpected changes. Active monitoring becomes increasingly important as services must be available 24/7 and as application and infrastructure update frequency increases. Creating alerts or performing real-time analysis of this data also helps organizations more proactively monitor their services.
Communication and Collaboration
Increased communication and collaboration in an organization are one of the key cultural aspects of DevOps. The use of DevOps tooling and automation of the software delivery process establishes collaboration by physically bringing together the workflows and responsibilities of development and operations. Building on top of that, these teams set strong cultural norms around information sharing and facilitating communication through the use of chat applications, issue or project tracking systems, and wikis. This helps speed up communication across developers, operations, and even other teams like marketing or sales, allowing all parts of the organization to align more closely on goals and projects.
Key benefits of DevOps to end users
With the help of static analysis checks; elimination of speed bumps such as cyclomatic complexities, the iSolvers DevOps services enable the development team to receive continuous feedback on their commits.
1. Faster Time-to-market: These practices not only enable innovation and continuous deployment to become synonymous with each other but also allow the deployment process to be easier and quicker, thereby ensuring ROI.
2. Cost-Effective Practices: DevOps involves automation of repetitive tasks without having to worry about errors. Such automation results in saving manual costs.
3. Eliminate Silos: Developers, Product Managers, QA team, & Operations Team work closely right from step one, eliminating silos. Break down of silos leads to deployment of applications faster with fewer errors, handle external changes quickly and be more efficient and productive.
4. Faster Development Cycles: Once communication & collaboration is enhanced, an improvement in the development cycles will clearly be visible.
5. Continuous Everything: A faster turnaround of development cycles leads to codes being released into the production cycles just as faster. Subsequently, the gaps generally occurring between requirements gathering and production are reduced, streamlining the entire process.